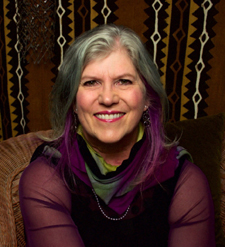 Spending my life in the Pacific Northwest has definitely influenced my art. My love of natural and organic elements comes though in each piece I create. I love to follow a path not knowing exactly where it is going to lead or where I will end up. I donít force the process, but allow it to happen. The integrity of each piece I make is so important to me. A piece should not only be beautiful to the eye but function well.

I have been teaching beading and wire-work classes for 14 years. My teaching career began at Beads and Beyond in Bellevue Washington. In addition to teaching locally I also travel and teach at a variety of bead stores and shows around the country. Some of the places that I have taught include: NanC Meinhardt's Studio in Highland Park, Ill, Crystal Creations in West Palm Beach Florida, Alaska Bead Company in Anchorage Alaska, Creative Castle in Newbury Park Ca, Bead Expo, Bead and Button Show and Bay Area Bead Extravaganza.
Sharing my skills with students brings me such satisfaction. Passing on the proper use of tools and techniques so that they too can allow the process to flow and create pieces with that are uniquely their own and that they will be proud to wear.