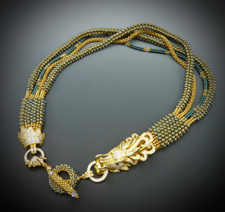 Gold with blue haze scales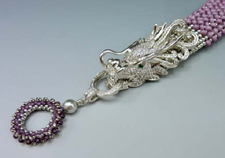 Silver with lilac scales


Burgundy Blue Haze
Lilac
September

30
Wed

9a

link available thru
October
2
Fri
9a
Class Fee
$85.00 + supplies Kit available in colorways to the left
Cost: First choose metal color then choose scale color
Gold~$130 Silver~$105

Kits are ordered through Laura after payment of class registration fee.
Prerequisites:
Chenille
Herringbone
Skill Level:
Advanced
Technique:
Chenille
Herringbone

Description:

Create a lovely mystical creature to adorn your neck! This necklace project utilizes herringbone and chenille stitch to construct a "scaly" dragon form which is beautifully finished with a cubic zirconia encrusted clasp. The multi strand portion of the necklace ensures a fine fit to any neck shape. Proficiency in both herringbone and chenille stitch is highly recommended.