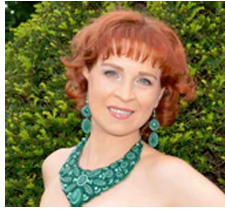 My name is Iryna Shlapakova and I am a self-taught beader and an operating room nurse.

I have always loved to be creative and design in my free time, I started knitting and cross stitching at a young age, but in 2013 I fell in love with making bead embroidered jewelry.

I am a winner of multiple beading contests: Bead Dreams, Fire Mountain Swarovski contest, etc. My work was published in several magazines: GMARO, Bead and Button, Beadwork, and Beads & beyond.

Several years ago people asked me to start teaching. I taught myself how to create jewelry by trials and errors, improving with each design. I perfectly understand the fear of mistakes, lack of confidence and knowledge where to get materials for jewelry creation. Therefore, I create tutorials in such way that any person, even without experience, can create a piece of jewelry following my tutorials. My tutorials contains a detailed description and large step-by-step pictures.

I like to incorporate different materials and bead types into my design. My goal is to make the learning process stress-free!